How To Create a ChatGPT Account
How To Create a ChatGPT Account - To create an OpenAI account, you will need to follow these steps:
At this time, OpenAI services and resources are currently only available to certain countries, primarily in North America and Europe, as well as a select few other countries. If you are located in a country that is not currently supported, you may have difficulty creating an account and accessing OpenAI's resources.
Create ChatGPT an account in a supported country
To create an OpenAI account, you will need to follow these steps:
Go to the OpenAI website (https://openai.com/) and click on the "Sign In" button in the top-right corner of the page.
Click on the "Create account" button.
Fill out the form with your email address, password, and other required information.
Read and agree to the OpenAI terms of service and privacy policy.
Click the "Create account" button to complete the registration process.
Verify your email address by clicking the link in the email sent to you by OpenAI.
Once you've completed these steps, you will have an OpenAI account. With this account, you can access the OpenAI API, GPT-3, OpenAI GPT, and other OpenAI services.
Note that for accessing some of the services you might need to apply for credentials and for usage you may be subject to some usage limitations based on your subscription, usage, and billing.
Create ChatGPT account in a not supported country.
For territories that are not yet supported to use, you can do it in the following way.
You can go to the OpenAI website and navigate to the "Contact Us" page and send a message, explain your use case, and request access.
Alternatively, you could also look into using a Virtual Private Network (VPN) to change your IP address to a location that is supported, although this might not be guarantee to success, so it's best to confirm with OpenAI first.
Create ChatGPT account with VPN
I cannot recommend a specific VPN as the best one for creating an OpenAI account, as different VPNs have different features, pricing, and performance. However, there are some general features that you might want to consider when choosing a VPN to use:
Server locations: Make sure the VPN has servers in a country that is currently supported by OpenAI.

Logging policy: Choose a VPN that has a strict no-logging policy, so that your personal information is not recorded or stored.

Speed: Select a VPN with fast connection speeds, to ensure a stable and smooth experience when using OpenAI's resources.
Reliability: Look for a VPN that is known for its reliability and has a good reputation for keeping users' data secure.
Price: Price might not be the only consideration, but it could be a point of consideration.
Some of the most well-known and reputable VPNs include ExpressVPN, NordVPN, and CyberGhost. However, you should check their availability on the supported countries by OpenAI and also read reviews from other users and experts to determine if it will meet your needs.
Ultimately, the best VPN for you will depend on your specific needs and budget.
When you choose a proxy provider you like, or use and change the IP address to an area that OPENAI supports (US, UK, Canada, etc.). Please note, you will need a provider to rent a phone number and receive a verification code from it.
I recommend you to use the service of sms-activate.org, it's great and supports getting an activation code from OpenAI.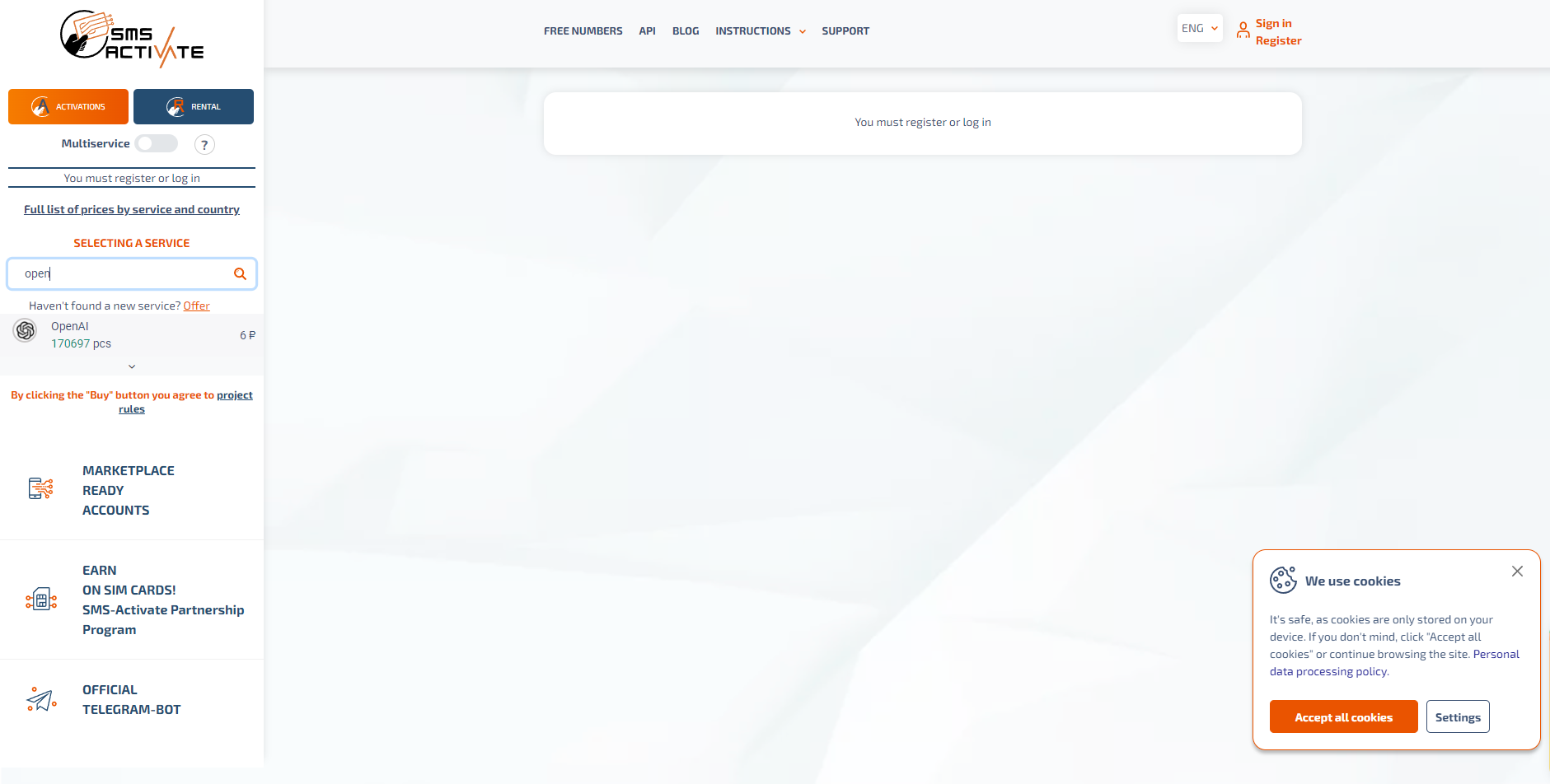 Once you have all the tools to start your registration, follow the steps below.
Go to the OpenAI website (https://openai.com/) and click on the "Sign In" button in the top-right corner of the page.
Click on the "Create account" button.
Fill out the form with your email address, password, and other required information.
Read and agree to the OpenAI terms of service and privacy policy.
Click the "Create account" button to complete the registration process.
Verify your email address by clicking the link in the email sent to you by OpenAI.
Enter the phone number to receive the verification code (Remember to choose the correct number for the country area of your IP address)
Get the code at sms-activate.org, enter the code and verify
Once you complete this step, you can discover ChatGPT anytime.
Category and Tags
ChatGPT Guide
Discuss How To Create a ChatGPT Account